Ilahiyat Studies is an international, peer-reviewed multidisciplinary journal dedicated to publishing scholarly articles on all aspects of Islam and the Muslim peoples and on religious studies. Available in print and online and published twice a year, the journal aims to become one of the leading platforms in the world for new findings and discussions of all fields of Islamic and religious studies.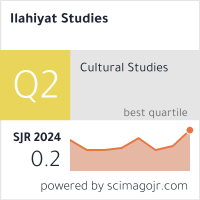 Announcements
General: Forthcoming Issue (Volume 7, Number 2, 2016)

Articles

Jews in the Qurʿan: An Evaluation of the Naming and the Content
Salime Leyla Gürkan

The Abbasids and the Architectural Development of the Prophet's Mosque: The Consequences of a Political Disintegration
Spahic Omer

Definitiveness of Proof of Ḥarām and Ḥukm of its Denial in Ḥanaf̄̄̄Ī School
Seyit Mehmet Uğur


Review Articles

An Anthology of Philosophy in Persia, Volume 5: From the School of Shiraz to the Twentieth Century edited by S. H. Nasr & M. Aminrazavi
Amos Bertolacci

The Origins of the Shīʿa: Identity, Ritual, and Sacred Space in Eighth-Century Kūfa by Najam Haider
Seyfeddin Kara

The Alexandrian Summaries of Galen's on Critical Days: Editions and Translations of the Two Versions of the Jawāmī', with an Introduction and Notes by Gerrit Bos and Y. Tzvi Langermann
Cecilia Martini

The Politics and Culture of an Umayyad Tribe: Conflict and Functionalism in the Early Islamic Period by Mohammad Rihan
Mushegh Asatryan

The Popularisation of Sufism in Ayyubid and Mamluk Egypt 1173–1325, by Nathan Hoffer
Yossef Rapoport
Posted: 2016-06-17
More...
Volume 7, Number 1 (2016)
Open Access
Subscription or Fee Access
DOI: 10.12730/13091719.2016.71
Full Issue
Table of Contents
Editorial
Articles
Book Reviews
Obituaries
Front Matter
| | |
| --- | --- |
| Front Matter | PDF |
| | |
Back Matter
| | |
| --- | --- |
| Back Matter | PDF |
| | |
A Journal on Islamic and Religious Studies, 2009-2017 eISSN 1309-1719